NT Summer Reading Challenge 2020 – Read a Rainbow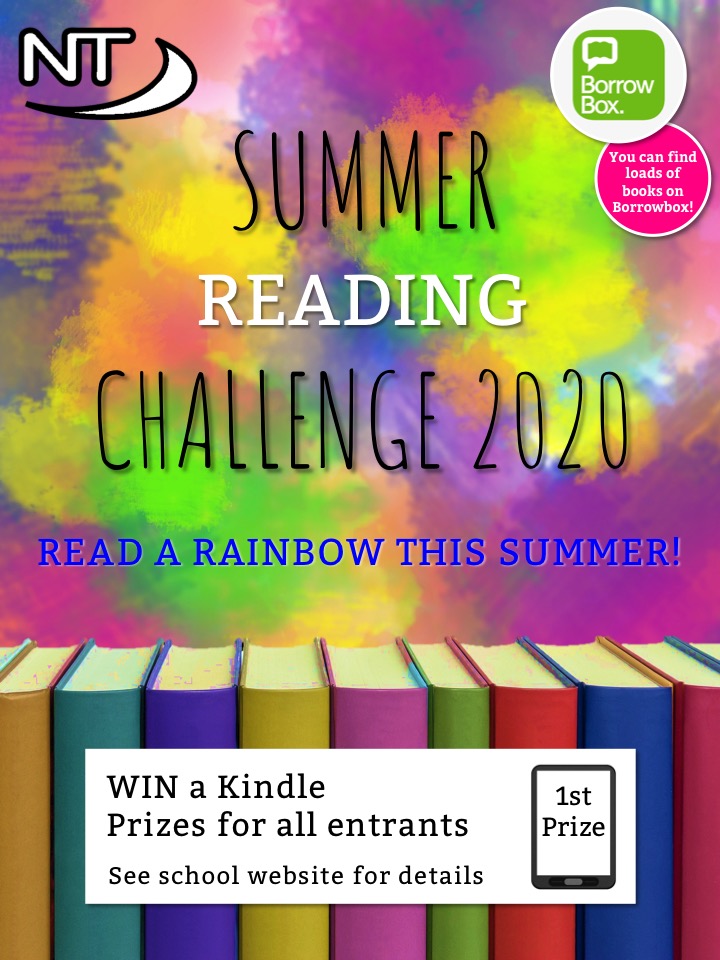 Read 5 books over the summer holiday. Keep a list of the titles and when finished rate them out of five. For your favourite of the five you can either;
Design a new front cover – think about why you liked the book, what the cover will say to other readers,
or
Write a new back cover for the book – you should include a blurb, review and images if you wish.
Submit your entry via email to library@tretherras.net or hand in in by the end of September.
You can read anything you would like, but the theme this year is 'Read a Rainbow' and we encourage you to read widely about other people and their lives. recommendations will be posted over the summer on the school social media but here is a list of categories and some ideas for each to get you started.
Biography
The Diary of a Young Girl
Anne Frank
Mud, Sweat and Tears
Bear Grylls
The Reason I Jump
Naoki Higashida
Messi: From the Playground to the Pitch
Matt Oldfield
Bob: No Ordinary Cat
James Bowen
I am Malala
Malala Yousafzai
Soul Surfer
Bethany Hamilton
The Boy Who Harnessed the Wind
William Kamkwamba
Black Lives Matter
The Hate You Give
Angie Thomas
Orange Boy
Patrice Lawrence
Dear Martin
Nic Stone
Noughts and Crosses
Malorie Blackman
Ghost Boys
Jewell Parker
Children of Blood and Bone
Tomi Adeyemi
Crogton Nights
Alex Wheatle
Roll of Thunder, Hear My Cry
Mildred D Taylor
Understanding and Celebrating Difference
Wonder
R.J Palacio
The Curious Incident of the Dog in the Nighttime
Mark Haddon
The Silence Between Us
Alison Gervais
Freak the Mighty
Rodman Philbrick
The Taylor Turbochaser
David Baddiel
Song for a Whale
Lynne Kelly
The Unlikely Hero of Room 13b
Teresa Toten
LGBTQ+
I'll Give You the Sun
Jandy Nelson
Leah on the Upbeat
Becky Albertalli
The Art of Being Normal
Lisa Williams
My brother's Name is Jessica
John Boyne
More Than This
Patrick Ness
What is Gender? How does it define us? and Other Big Questions
Juno Dawson
George
Alex Gino
Will Grayson, Will Grayson
John Green and David Levithan
History
Salt to the Sea
Ruta Septys
Dancing the Charleston
Jaqueline Wilson
Fever 1793
Laurie Halse Anderson
The Somerset Tsunami
Emma Carrol
The Austen Girls
Lucy Worsley
I, Coriander
Sally Gardner
Orphan, Monster, Spy
Matt Killeen
An Elephant in the Garden
Michael Morpurgo
1st Prize – Kindle Fire and your cover design professionally printed as a poster and displayed in school and in your local library.
2nd and 3rd Prize – £10 book voucher
There will be a small prize for all those who take part.
Where can I get books from?
Visit the school library website for details of e-platform our schools e-book app.
Your local library is now open for click and collect, you can reserve books online and collect them from your library.
You have all been given log in details for BorrowBox, which has a huge selection of e-books to download and read.
MyOn is still free to use, you can visit the site here and login using the following details;
School Name Newquay Tretherras (type the first few letters and select from drop-down menu)
Username newqyay852student (no, that is not a typo, it is newqyay!)
Password read
Swap with friends and family
Support your local Bookshop