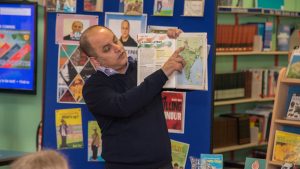 Author Bali Rai visited Newquay Tretherras on Thursday 29th April 2016 to talk to Year 8 students about his passion for literacy.
Bali Rai was one of the authors attending the Kernow Youth Book Awards, on Wednesday 28th, at the Eden Project were his latest book Webb Of Darkness was selected for an award. Over 250 students attended the awards from all schools around Cornwall.
All of Bali's teen titles have been short-listed for awards across the UK, including twice making the Book Trust Teenage Prize shortlist.
During his visit to Newquay Tretherras, the award-winning author spoke to students of how his passion for knowledge in a library started at the age of 5.
"From the age of 5, I was always in the library, feeding my brain. I used to read 3 books a week. I got picked on for doing it. I didn't care because it meant that I was able to have a successful life and achieve my ambitions. The guys who picked on me didn't!"
Bali has been in Cornwall visiting 4 schools and talking to students how important literacy skills are for anyone who has ambition and wants to make their life a success.
"Literacy skills are the single most effective way of giving you the best opportunities in life. It's a fact. Fill your brains with knowledge and give yourself every chance to do something amazing. Reading is reading whether it is a book, a novel, or even graphic novels, they are all going to give you knowledge."
Mrs Rachael Trevarthen, Lead Teacher of English at Newquay Tretherras, commented, "Bali's visit was inspiring to the students and staff. His messages about the importance of reading really struck a cord with our students. We are looking forward to working with him on future projects."