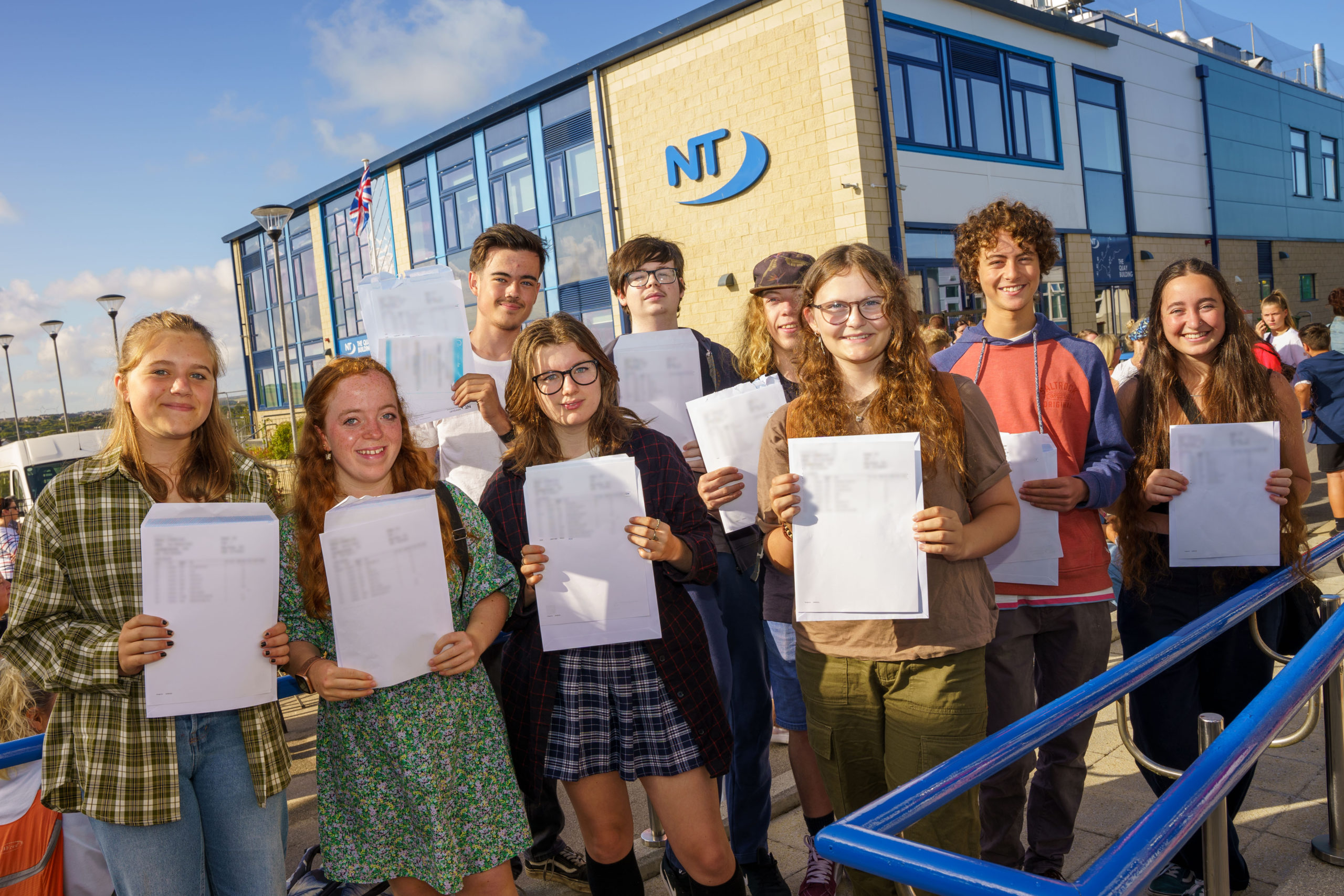 Year 11 Newquay Tretherras students celebrated their exam success in style this morning, as they collected their results' envelopes from school with families and friends. Students and staff alike have eagerly anticipated this particular set of results as these are the first public exams and vocational assessments that have taken place since the covid pandemic struck. The atmosphere in school was buzzing, with lots of excitement and laughter – and only tears of happiness!
Headteacher Samantha Fairbairn said, "We are thrilled with the individual successes of our students across a wide range of subjects, and we are proud of our dedicated and talented staff".
The resilience that Newquay youngsters have shown throughout the pandemic has been remarkable. In a year of national uncertainty, Tretherras students have once again worked hard to achieve their very best and we are very proud of them. They have met unique challenges head-on and are all inspiring young people with their own individual talents: we couldn't be prouder of them. Our students are well-prepared for the next stage of their education or training and we congratulate them on their well-deserved successes and wish them every success and happiness for the future".
Congratulations for their high achievements go to the following students who all achieved an array of grade 8s and 9s, the highest grades possible: Nell Gray, Gracie Stoneman, Lauren Sandland, Cameron Jackson, Mawgen Warren, Jemima Talbot, Jasmine Gordon, Leah Smith and Naobi Clarke.
Special congratulations also go to the following students who achieved the most progress during their time at Tretherras: Jasmine Stevenson, Cole Channing, Henry Sawkins, Luke Garratt, Frank Monk, Emily Darby, Eve Bruce and Rose Flynn.
Gemma Harries, Deputy Headteacher, commented: "We couldn't be prouder of our children: they have shown a maturity beyond their years; a resilience to be admired; and have offered us enough smiles to last us a lifetime. Like every Year 11 cohort across the country, this has not been an easy journey for some of our children, but they will not be defined by this pandemic and their memories are instead focused on successes achieved, on friendships formed, and on all the experiences and opportunities they've had whilst at Newquay Tretherras".
With English, Maths and Science achieving their highest attainment ever and almost three quarters of our children achieving a Grade 4 or above in English and Maths, our children have bright and exciting futures ahead. Well done to all of Year 11 – you have been a pleasure to work with and we wish you all the best for your next chapter."