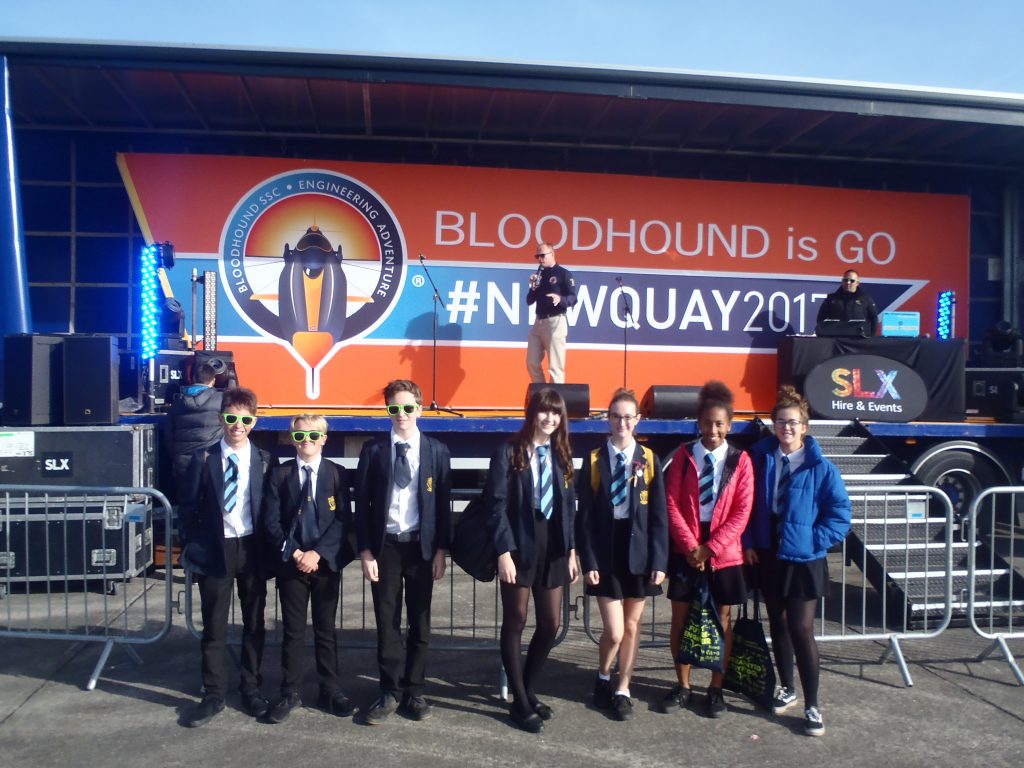 A group of lucky Newquay Tretherras students ranging from Years 10 – 13 attended the Cornwall Skills Show at Newquay Airport on 30th October.
This big event, organised by the Cornwall and the Isles of Scilly Enterprise Adviser Network and run in conjunction with BLOODHOUND SCC, was part of the testing and preparations for the supersonic car hoping to set the 1,000mph land speed record in South Africa later this year. There was a whole host of interactive exhibitor stands for students to visit, aiming to showcase the large range of careers opportunities in Cornwall, and giving them the opportunity to see the supersonic car.
"This was a brilliant event for Newquay Tretherras students to take part in because there were so many opportunities for them to speak to companies that are based in Cornwall with a wide range of apprenticeships and different career paths on offer" explained Ms Sara Jeffery, Careers Coordinator at Newquay Tretherras.
Ms Jeffery continued, "Students got involved in activities such as making cookies, bath bombs, flower arrangements and even their own mini rocket cars! This sort of event is great for inspiring young people and giving them a taste of what they could do in the future."
As well as the Careers Fayre, Newquay Tretherras students witnessed The Bloodhound Land Speed Record testing session.
Students were thrilled to watch some of the first test runs of the Bloodhound supersonic car, in preparation for the upcoming attempt at a new world record land speed record. Students were able to witness the car reach up to speeds of 200 mph at very close quarters!
Mr Andrew Saundry, Director of Science at Newquay Tretherras commented, "It was great to take advantage of having such a prestigious project on our doorstep at our local Aerohub, and for students to see the Bloodhound car running at such high speeds on the Newquay Airport runway."