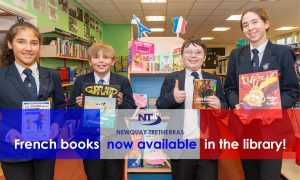 We are very excited to announce that French books are now available in the library for students to take out. Thanks to several very kind donations, Tretherras students can now improve their French through reading. We have a range of comic books, Harry Potter novels and other fiction and non fiction items to choose from.
Top tips for tackling French books!
Pick something you are interested in
Concentrate on a few pages at a time
Make a poster of vocab you've learnt – use the online dictionary wordreference.com to translate words
Make up your own cartoon based on the characters in one of the comic books

Create a spidergram of your favourite words using Wordle.net
Make sure you share your fab work with the MFL department – we would love to see your creations and talk about how you are getting on with the new books!