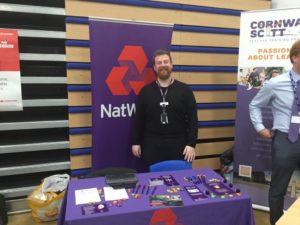 My name is Matt Ford and I am a Community Banker for NatWest Group.
I attended Newquay Tretherras and completed my GCSEs in 1997.
I completed my Year 10 work experience at Kaye's Chemist in Newquay as I thought that might be an interesting career path.
After I finished school I decided not to continue my education and started working immediately. I did various different jobs from bar work to cleaning and working for a company who supplied and fixed arcade and gaming equipment. I did the last role for nearly ten years when I was made redundant. At that point I wasn't sure what to do and ended up applying for a job in sales at Phones 4 U. I had never done sales before and was nervous. Phones 4 U provided some fantastic training which also gave me a few nice qualifications at the end (NVQ level 2 in sales and service). After 2 years selling phones I decided I needed something more challenging and with better career opportunities.
It was then that a position came up in NatWest for a Protection Consultant (selling life insurance). I successfully applied and started with the bank in 2013. This was one of the best decisions of my working life as the bank really supported me with my training and career opportunities. I am now a member of the Chartered Banker Institute. I am also currently studying for my Professional Banker Diploma which is all funded by the bank. I worked as a protection consultant for about 6 months and was then promoted to a Customer Advisor where I got to help our customers to save, make and protect their money. I really enjoyed this role and did it for 5 years until another promotion became available to a Community Banker role which was a step up into management level.
I plan to stay in the bank for the foreseeable future as they have been so supportive and I am continually developed and have more and more qualifications on my CV. I did not need a degree to get this job in the bank but good GCSE levels in Maths and English are definitely an advantage. There are so many different options and career paths in the bank. I think if you're prepared to work hard and give it your best efforts and you enjoy the work you do, then you can be extremely successful at whatever career you choose.