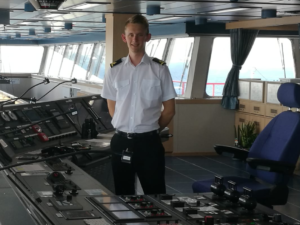 My name is Matt Banks and I am a Deck Officer in the Merchant Navy.
I attended Newquay Tretherras and NT Sixth Form, 2008 – 2015.
I completed my Year 10 work experience on the Adventure Service Challenge during Activities Week.
I joined Warsash Maritime Academy, in Southampton, in September 2015 after completing my A-Levels. Here I studied a Foundation Degree in Maritime Operations, gained various hands on courses such as Maritime Fire Fighting, Medical Care & First Aid, Radio Operations, Lifeboat and Small Boat Handling, Security Management, etc and completed a year of on the job experience onboard various ships including large sailing vessels, cruise ships, special operation ships and gas tankers. I qualified as an Officer Of the Watch Unlimited in August 2018. This allows me to sail on a ship of any size in all areas of the world.
I am now working as a Deck Officer in the Merchant Navy onboard a Liquified Natural Gas (LNG) Tanker. The ship is 300m long and 50m wide. She is part of a new fleet of ice breaking ships which means we can operate in icy Arctic waters. We frequently go into the ice in the North of Russia, and trade in Europe and Asia.
The job requires me to work as part of a team of approximately thirty people from many different countries to navigate the ship to and from worldwide ports safely and efficiently. I have control of the ship for around eight hours a day and have to make decisions on how to keep the ship safe frequently. Some of these decisions are made under pressure and can be critical, skills which I learnt through challenging myself in activities with the Outdoor Learning department.
I have been very lucky to see a lot of the world with my job including The Falkland Islands, South Georgia, many pacific islands such as Tahiti and Bora Bora, much of the Caribbean, Singapore and South Korea amongst others. As I work at sea on contracts of about 3 months I've had the privilege to see all sorts of wildlife and incredible sights such as the Aurora Borealis (Northern Lights), Orcas, polar bears and humpback whales feeding off the coast of Norway. After my time at sea I usually have 2 months of leave, giving me time to do extra training or enjoy my time off relaxing at home.