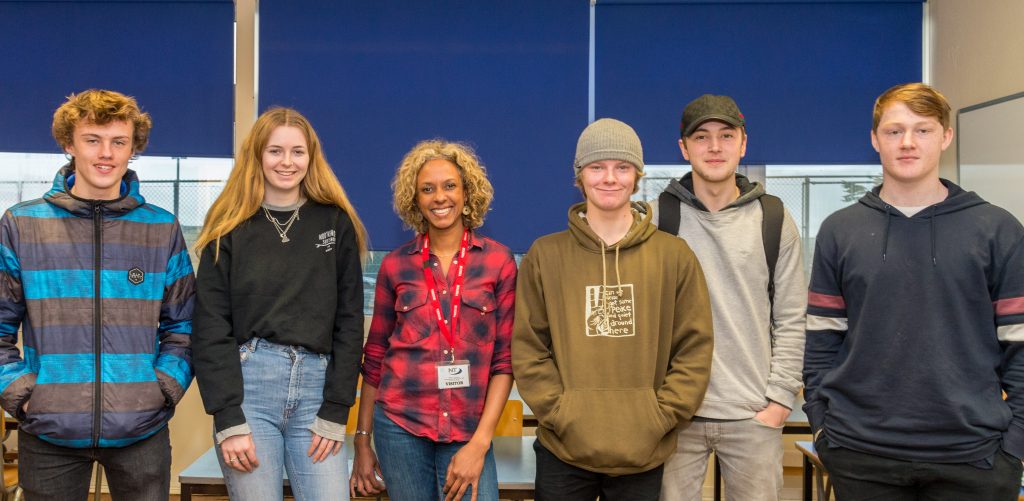 Following a snowy few days in Cornwall, Year 12 Business students at Newquay Tretherras were thrown straight into Spring with a talk from Springwatch presenter Gillian Burke, as part of their ongoing work focusing on the issue of plastic waste.
Visiting the class, Gillian talked through environmental issues ranging from CFC gasses which led to the hole in the Ozone layer, through to more recent issues such as smoking in pubs and public spaces, and of course the Plastic Pollution issue. Students had the opportunity to ask questions throughout the session, discussing their project of a 'Beverage Bin' with her, and weighing up potential ways to change the behaviour which leads to so much single use plastic waste.
Lead Teacher of Applied Learning and Business Studies, Mr Nicholls, said "This was a truly inspirational session which has given the students a fantastic insight into some of the environmental issues which we're facing worldwide, and how small changes can bring about bigger impacts. Gillian managed to engage the students in the session, and gave them plenty of food for thought moving forwards, as well as ideas for the work which they're doing".
The session with Gillian is part of the students' ongoing work alongside ashortwalk, focusing on the idea of a 'Beverage Bin' – a recycling bin which would be used to collect beverage containers of all sorts so that they can be recycled. Students are using the idea as their focus for their Marketing coursework, working on a brief focused on ashortwalk and their efforts with recycling and repurposing waste.
As well as this session, students have also had sessions with Clean Cornwall in order to introduce the idea, ashortwalk founder Dan Dicker where they discussed their ideas, and Pirate FM who ran a Digital Marketing workshop with the group.
Set for completion in April of 2018, students are hoping to have a pilot scheme running later in the year.